A dive in the aquatic area of the campsite in the Drôme
Take a swim in the heated pool in Anneyron
What could be better than a beautiful heated swimming pool equipped with deckchairs and shaded by straw huts!
Our aquatic area consists of a large swimming pool of 16 m x 8 m with a maximum depth of 1.80 m, as well as a paddling pool of 4 m x 4 m for the little ones with a maximum depth of 40 cm.
Access to the swimming pool is free of charge and exclusively reserved for people living on the campsite. The pool is open from 10am to 8pm in high season, in low season we close the pool earlier if the weather is not good.
The pool is not supervised, so parents are asked to keep an eye on their children.
The pool is heated by heat pumps to 27 degrees from the first day of opening on 1 May to the last day of opening.
An aquatic area in the middle of nature
Perfectly adapted to the environment, you will be protected by the numerous vegetation around the pool.
We confirm that our pool respects the regulations and recommendations of the ARS (Regional Health Agency), so shorts or Bermuda shorts are forbidden, it is also formally forbidden to eat, drink or smoke in the pool area.
For children who do not know how to swim, we have belts with floats available, so please ask for them.
Concerning the buoys or other bulky objects, they are at your discretion, in fact, we ask you in case of affluence in the swimming pool to limit these bulky objects in order to respect the bathing of all…
In our campsite you will not find a slide but we have plenty of other activities to keep young and old busy…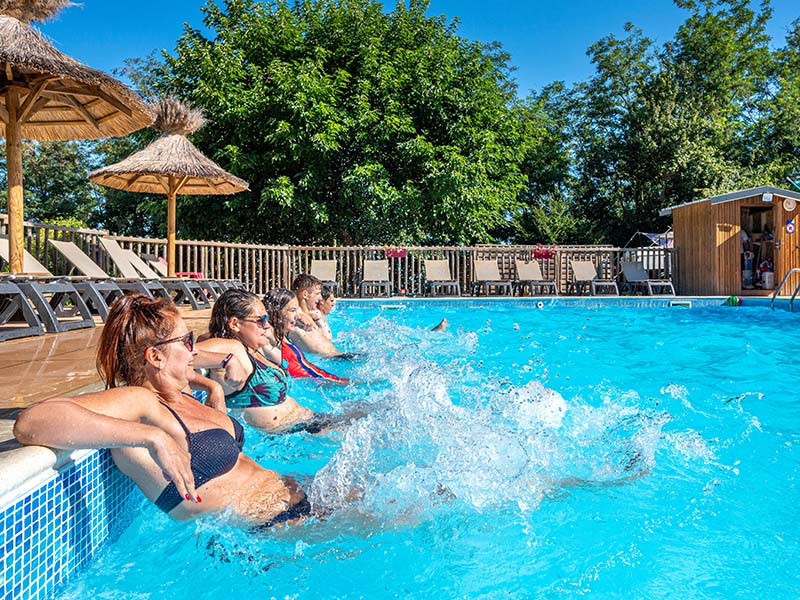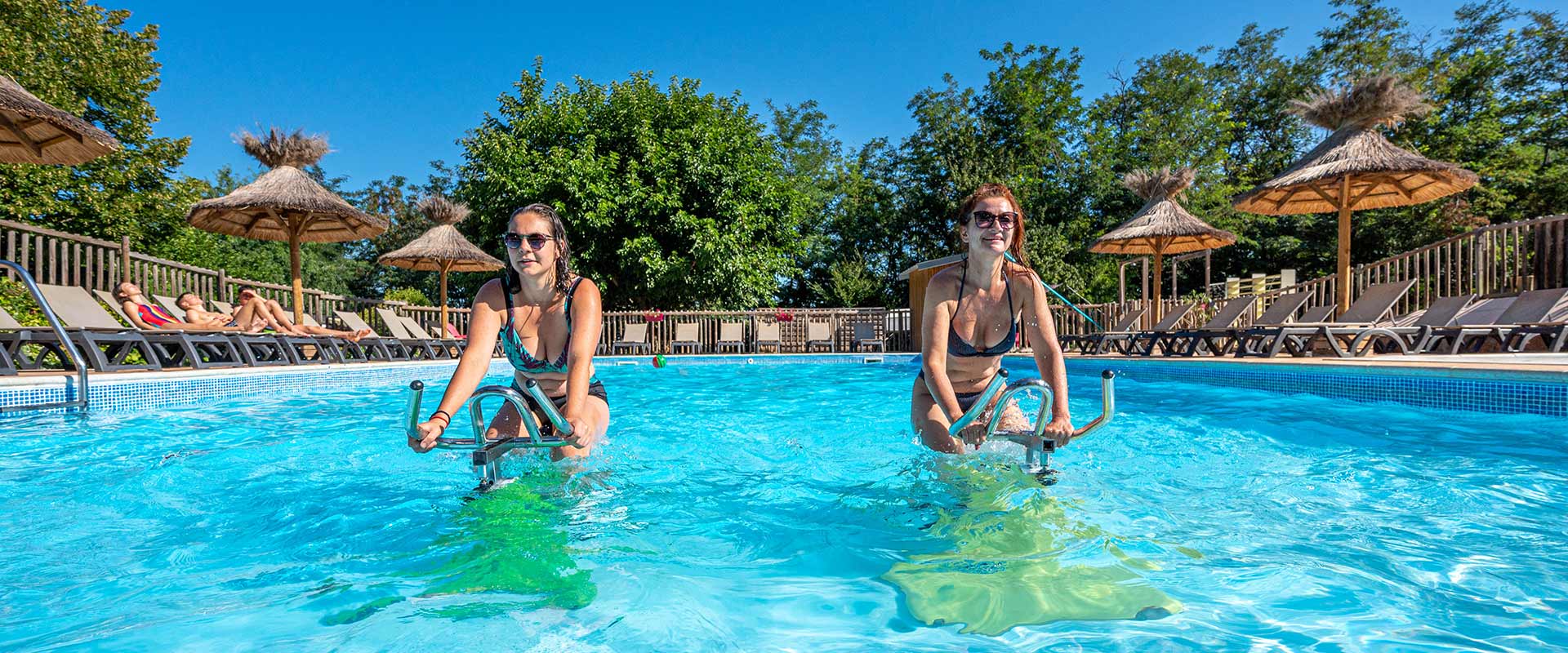 Wake up to our aquatic activities in Anneyronpiscine chauffée à Anneyron
In July and August we offer a wide range of aquatic activities.
In the morning we organise with our activity leaders either aquagym classes of about 50 minutes or we put at your disposal aquabikes.
During the day we offer the youngsters the opportunity to play various games in the water: sparrowhawk, dodgeball, relays etc…
And in the evening, twice a week, we offer swimming pool nights until 10pm, during which we will play water polo.
All these activities will be organised and supervised by our activity leaders, so don't hesitate to consult our entertainment schedule available on the Flower campsites application.
Apart from the activities offered by the campsite, we would be grateful if you would respect community life and not play with balls or other cumbersome objects when there is a large number of people at the pool…
The paddling pool
ideal for your children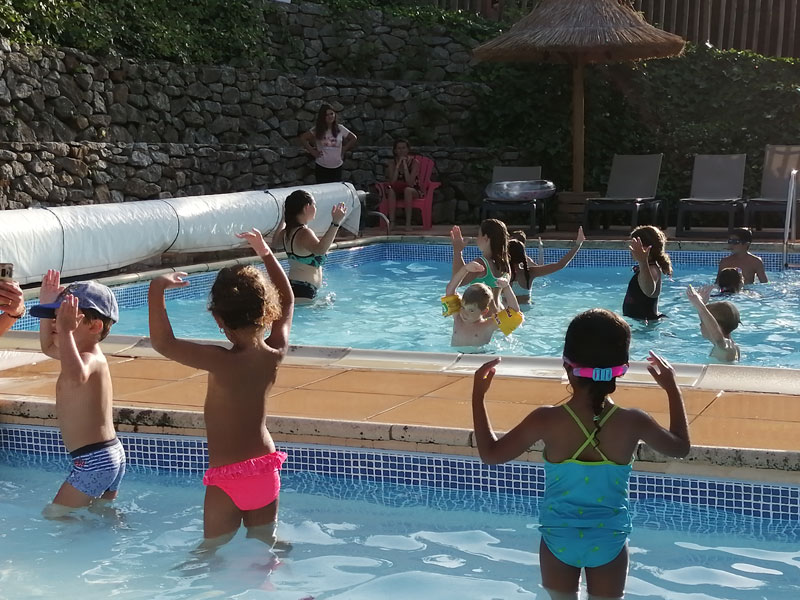 The aquatic area is equipped with a paddling pool of 4 m x 4 m, heated to 27 degrees. It is perfectly suitable for young children.
We strongly recommend that parents with children who cannot hold back put on nappies suitable for swimming…
Even if this paddling pool is only 40 cm deep, it is imperative to keep an eye on the children in the water at all times, as drownings happen very quickly and sometimes while the children are on their feet…
Please do not leave any small objects in the water that could block the drains and be dangerous for the children.
Tanning on sunbeds
at the poolside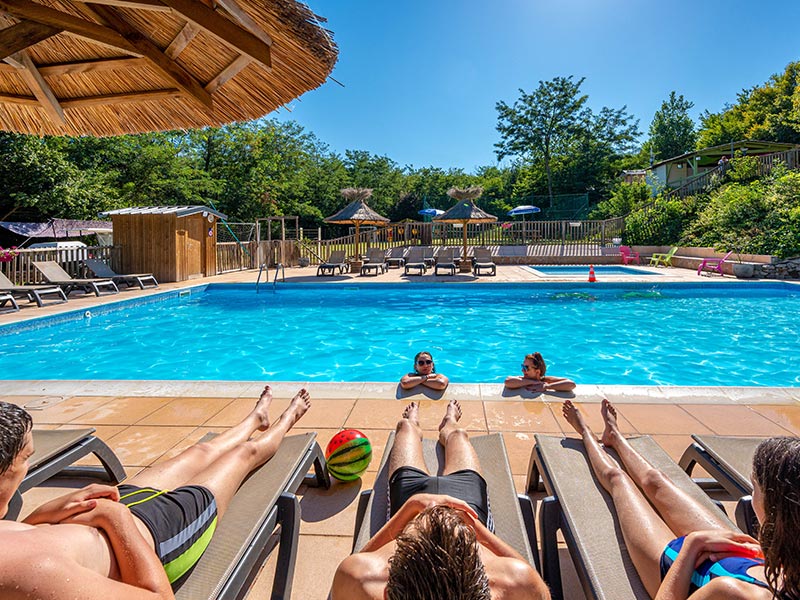 What a pleasure to lounge on the many deckchairs at your disposal.
What could be better than the sun, the swimming pool and the mildness of the Drôme to relax and recharge your batteries.
If you are too hot, dive into the turquoise water of the pool.
You can also take a book and sit in the shade of the straw huts.
Doing nothing, watching time go by and enjoying every moment, this is the ideal place for that…
The pool is also a place where families can meet, children can make friends and parents can talk to other parents…
What our customers think of the pool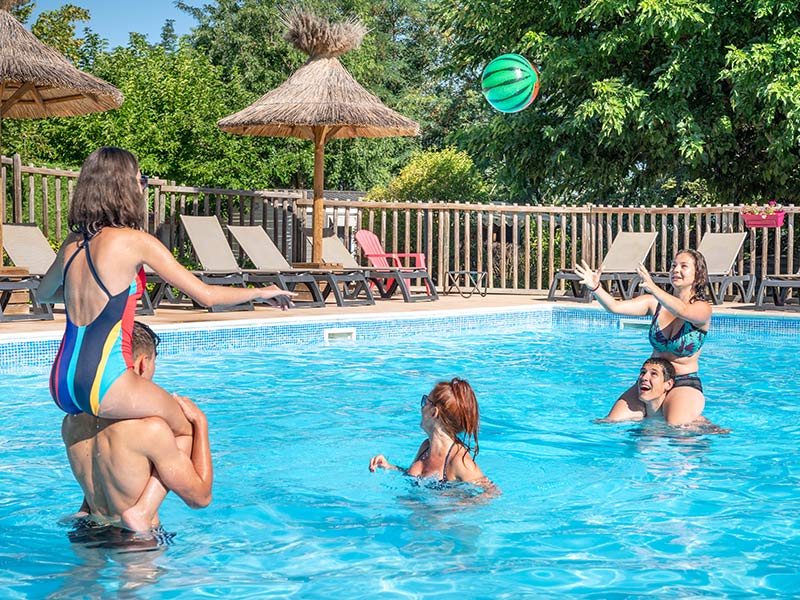 A very family friendly campsite with a great welcome! The facilities are clean, well maintained, a large swimming pool is very nice.
The restaurant is a real marvel with a quality cuisine.
A real good discovery this campsite!
A wonderful family stay, an exceptional welcome, a large well-equipped bungalow, a very nice pool to cool off in, and a perfect jaccuzzi to relax in!
Discover the spa, the locations and the restaurant of our campsite