Discover the palace of the Facteur Cheval
The history of the Facteur Cheval Palace
The Ideal Palace of the Facteur Cheval is the hard work of one man, Joseph Ferdinand Cheval. From 1879 to 1912, this man spent more than 10,000 days collecting stones and building an uninhabitable palace. This postman was inspired by the postcards he distributed to his customers to imagine an incredible palace…
He wanted his palace to be set in a lush garden, with animal creatures, each more extraordinary than the next, but also giants, fairies and mythological characters. Independent of any artistic trend, he built his dream without any architectural rules. This monument was classified as a historical monument by André Malraux in 1969.
In 2017 a film was made and broadcast on the big screens with Jacques Gamblin and Laetitia Casta as the main characters. This film tells the incredible story of the Facteur Cheval. The Palace was also selected by the French as their favourite monument.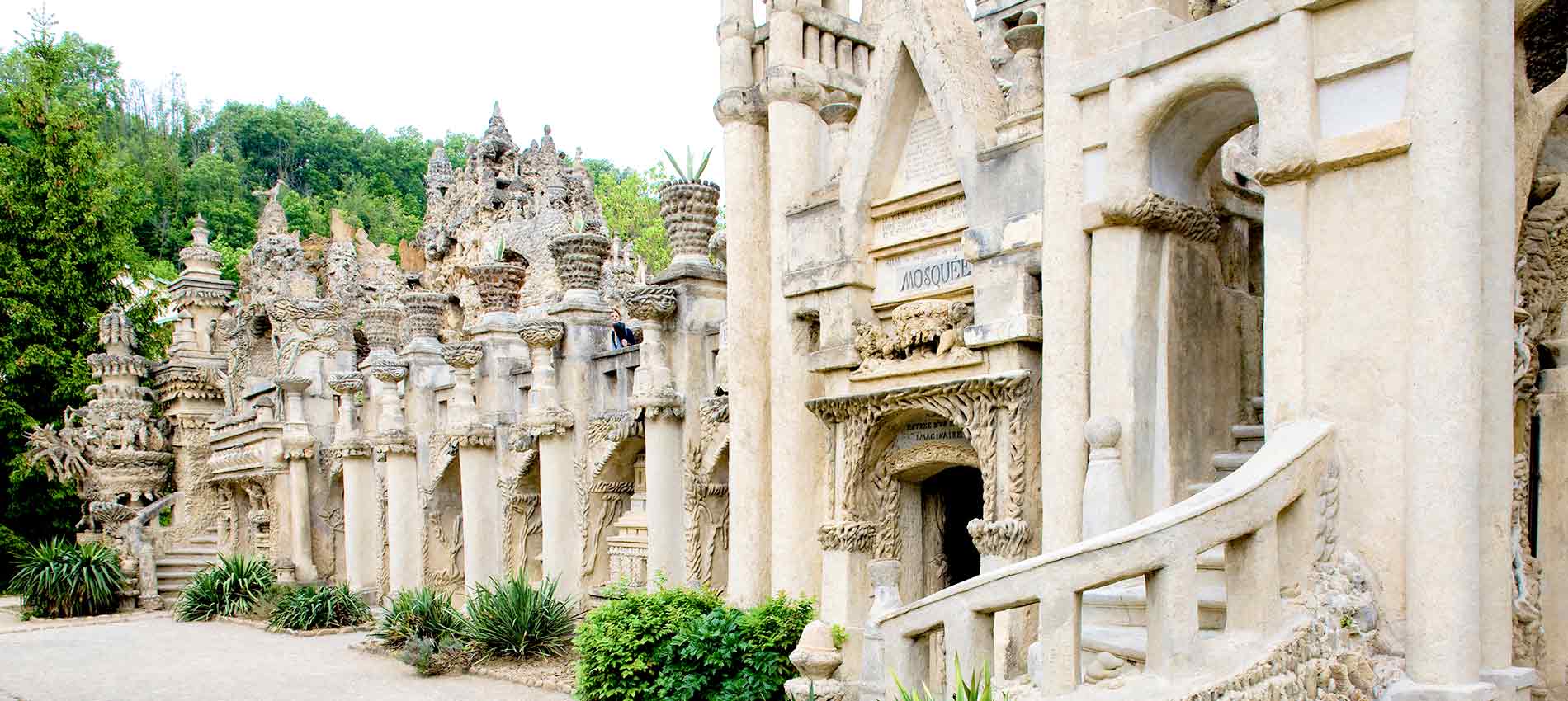 Visit to the palace
The palace is open every day from April to September, and it is strongly advised to reserve your seats, as more than 200,000 visitors come every year. For the duration of the visit, allow between 1 and 2 hours. For children, ask at the reception for a small guide with riddles, they will enjoy it….
Discovery workshops are also available. After the visit to the Palais, children and adults alike can try their hand at creating imaginary works of art, something to develop your curiosity, inventiveness and genius!
Campsite at 18 min from the Palais du Facteur Cheval
Our campsite in the Drôme is ideally situated, only 14 km from the Palais du facteur Cheval. You take a small road through fields and fruit trees to reach the town of Hauterives.
Once in the town, there is a large car park along the Galaure river. Once you have visited the town, you can go to the cemetery and admire the tomb of Factor Cheval.
To be discovered in the around our campsite