Your mobile home to rent in the Drôme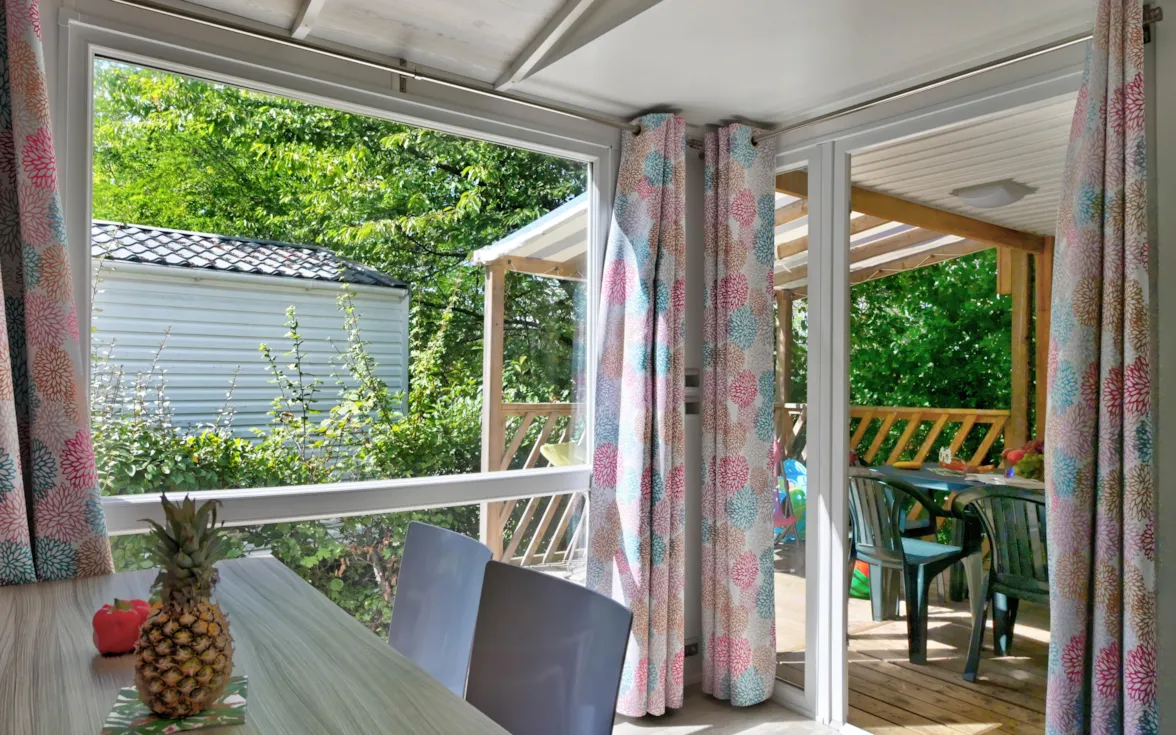 Mobile home Premium 27m² (2 bedrooms) + Covered terrace + Dishwasher + TV + air-conditioner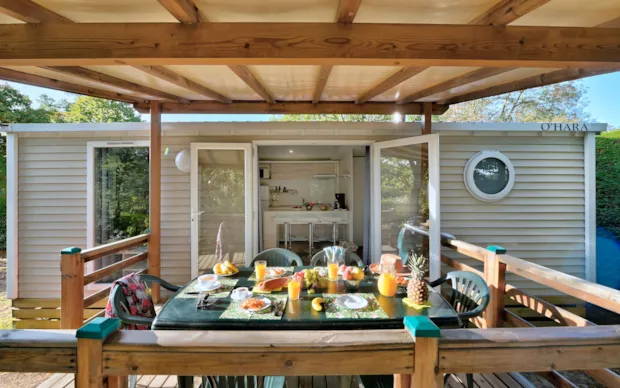 Premium mobile home 29m² (2 bedrooms) + covered terrace + dishwasher + TV+ Air conditioner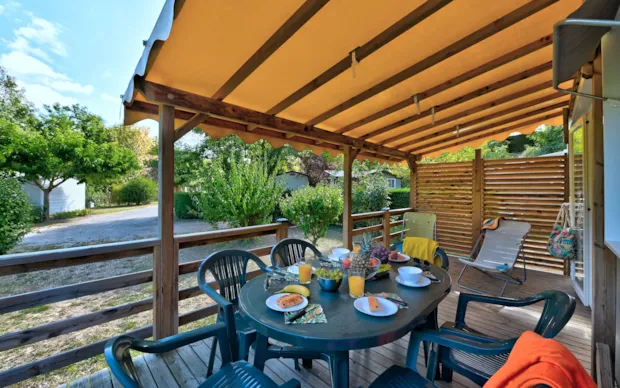 Mobile Home Premium 31m² (3 bedrooms) + Covered Terrace + Dishwasher + TV + Air conditioner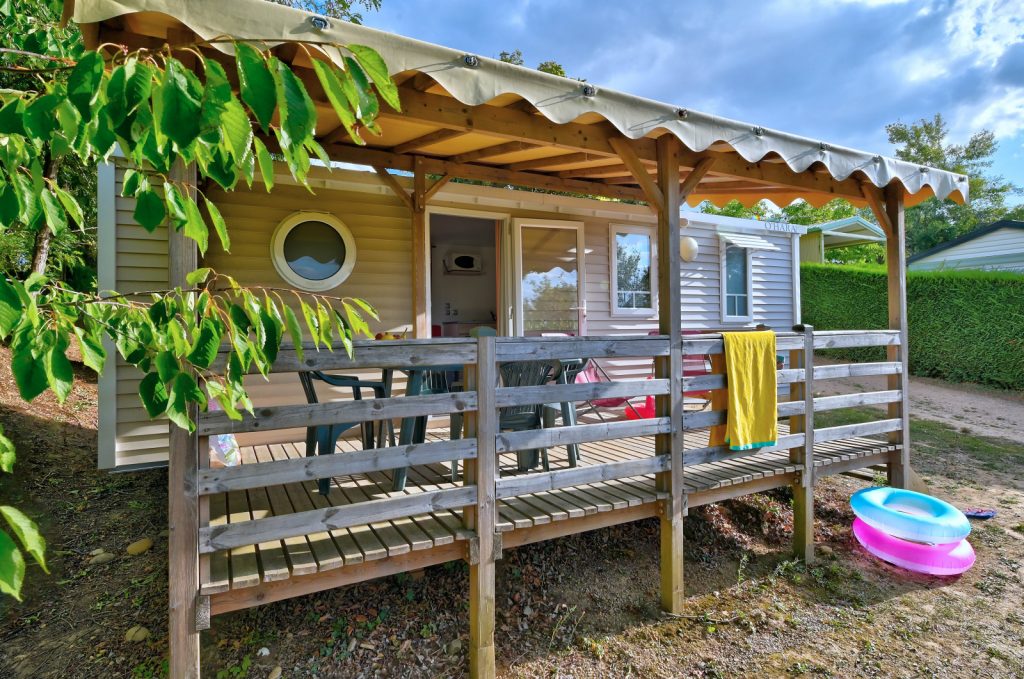 Mobil-Home Confort 23m² (2 bedrooms) – Covered terrace + TV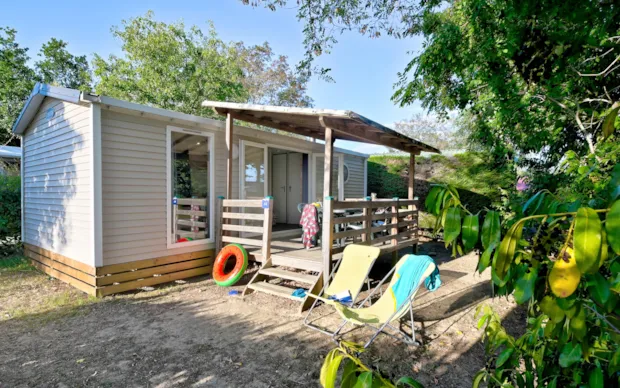 Mobil-Home Confort 29m² (2 bedrooms) + covered terrace + TV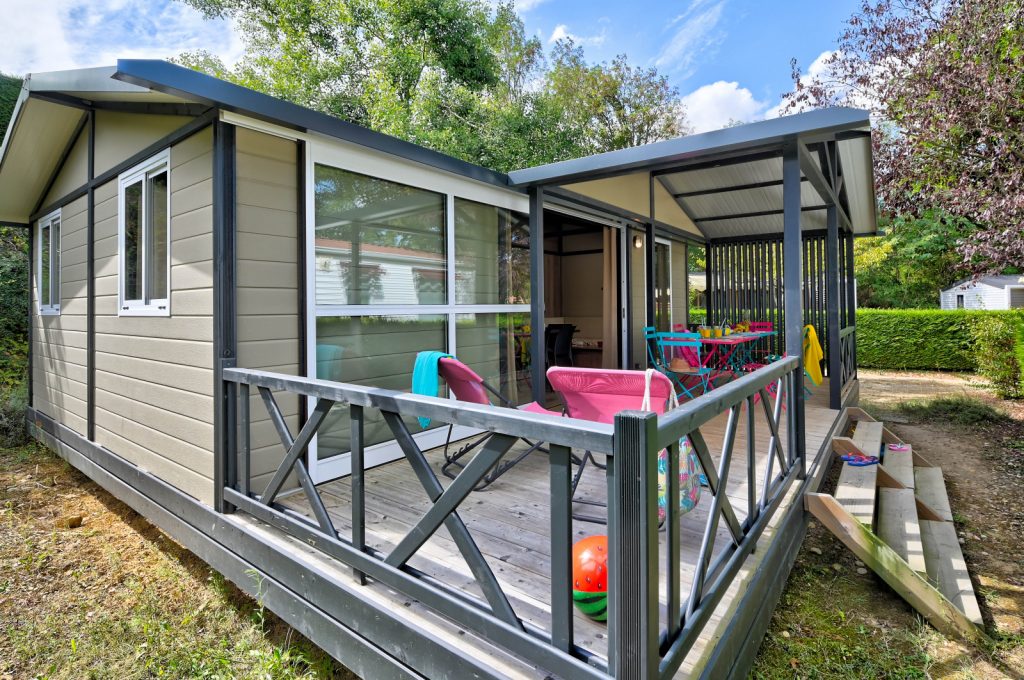 Chalet Confort 35m² (3 bedrooms) + Covered Terrace + TV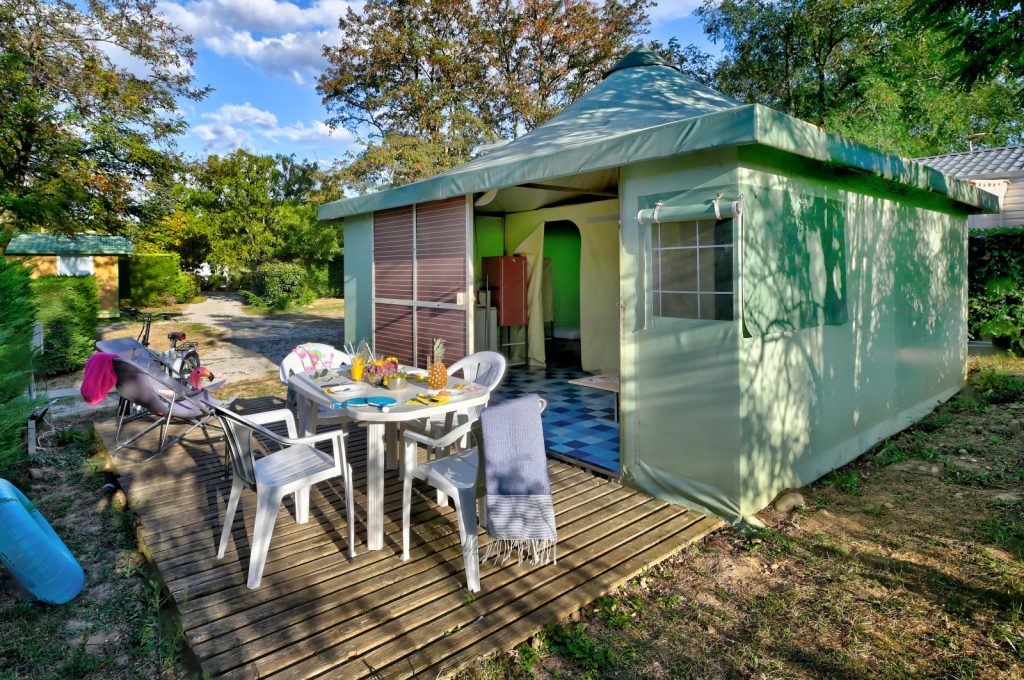 Bungalow FunFlower standard 25m² (2 bedrooms) – without private bathroom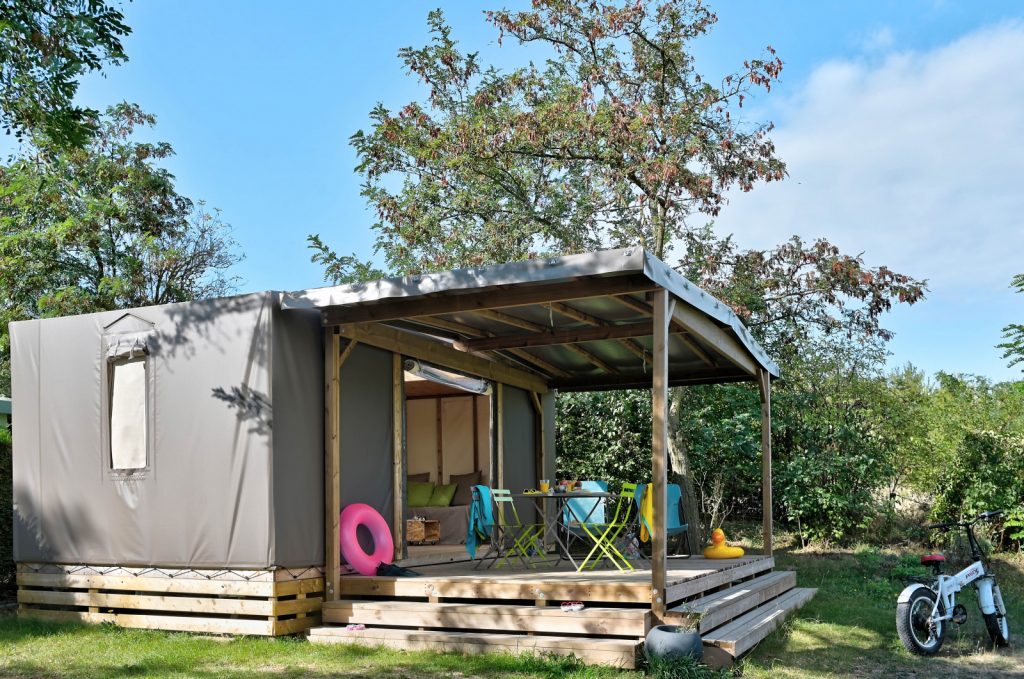 Lodge Maori Confort 17 m² (2 bedrooms) -without sanitary facilities + covered terrace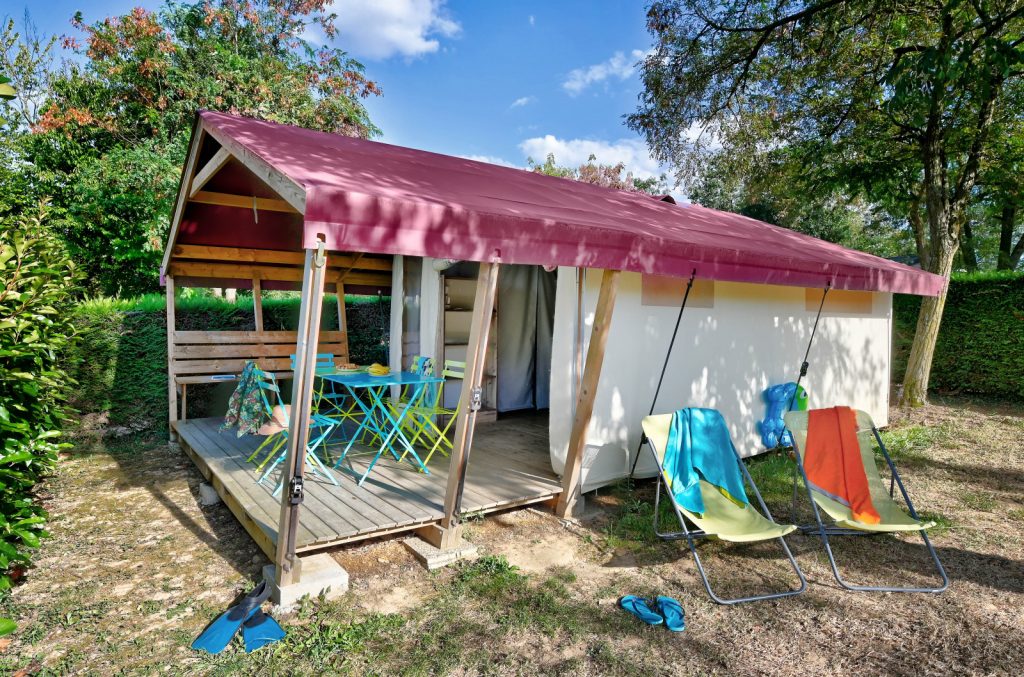 FreeFlower Confort 22m² (2 bedrooms) + covered terrace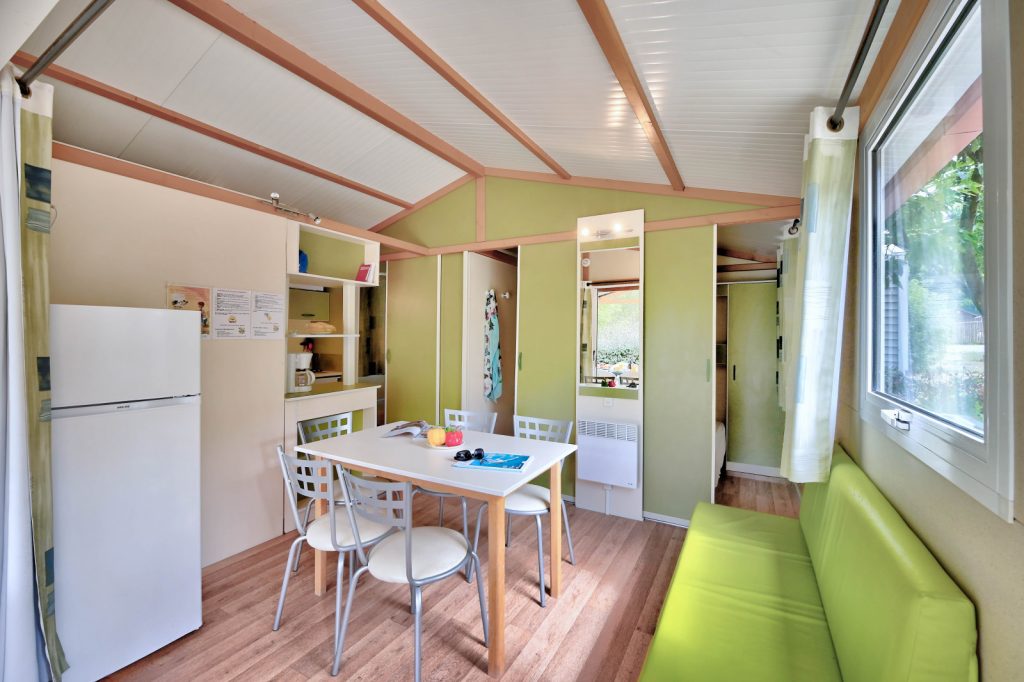 Chalet Confort 25m² (2 bedrooms) + covered terrace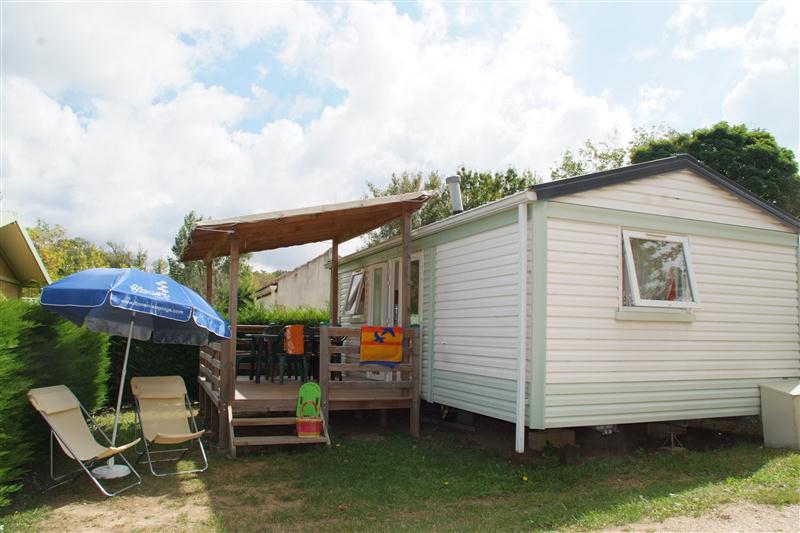 Standard mobile home 27m² (2 bedrooms) + covered terrace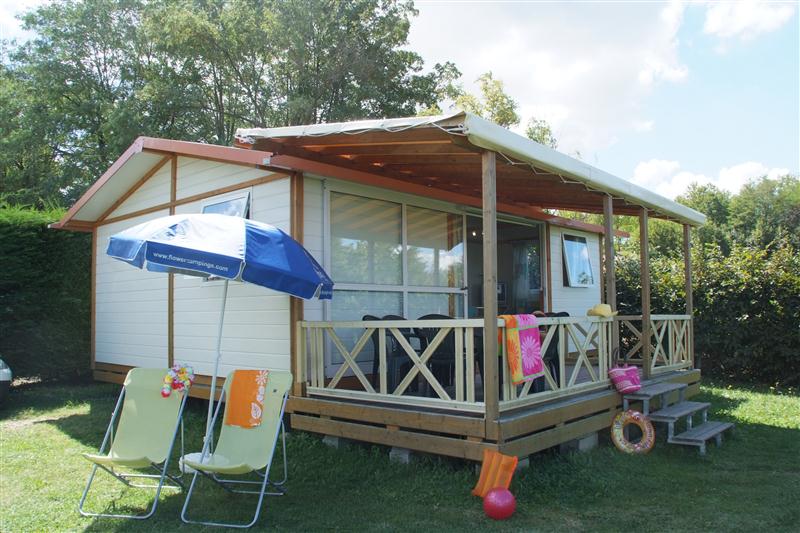 Standard Chalet 35m² (3 bedrooms) + Covered terrace
Rent a comfortable mobile home in Anneyron
Our campsite in the Drôme offers many different types of accommodation to suit all holidaymakers and all budgets, from canvas cottages with or without sanitary facilities to wooden chalets with large bay windows and mobile homes. They can accommodate from 1 to 6 people maximum.
The accommodation for rent in Anneyron is set on plots of land with grass and separated by planted hedges. The plots are large enough to accommodate your vehicle.
All our accommodation has a semi-covered terrace, two deckchairs, a table and chairs, and outdoor garden furniture.
On arrival you will find rubbish bags in all the bins, a roll of toilet paper, as well as disposable protections for the bedding, knowing that all our beddings are equipped with a washable undersheet, we also provide the pillows and duvets.
Our range of mobile homes for rent
We offer 3 ranges of mobile homes for rent in Anneyron at the best price:
a standard range including old mobile homes or canvas homes
without sanitary facilities.
a comfort range including chalets and toilés with sanitary facilities as well as
than the most recent comfort mobile homes with TV.
a premium range with very recent mobile homes equipped with a
TV, a dishwasher and a large 160 cm bed.
Particular attention is paid to the cleanliness of the mobile homes rented in Anneyron, therefore at each departure our cleaning lady goes back into the rentals in order to re-clean them, change the sheets, put back disposables, bin bags, a roll of toilet paper etc. ….
Group travel to Drôme
We also welcome groups. A wedding? A christening? A birthday party? A weekend? A race? Or simply want to get together with friends to enjoy the many activities of the region even for a weekend.
Please refer to our hotel formula with 1 night or 1 stay, catering and activities for 100 people/max. We provide you with bed linen with bath and kitchen linen in a rental with sanitary facilities for 2 to 6 people maximum.
We propose you :
breakfast (in the restaurant) including 1 hot drink, 1 cold drink, 1 pastry, bread with jam and butter.
half-board (in the restaurant) with breakfast + evening meal including main course, 1 cold drink, 1 dessert, 1 coffee or tea.
Full board (in the restaurant) with breakfast + lunch + dinner (1 dish, 1 drink, 1 dessert, 1 coffee or tea).
If you wish to benefit from these services, please refer to the list of options in the online booking section or contact us either by telephone on +33(0) 4 75 31 43 33 or by e-mail: contact@chataigneraie.com.
For information, we do not take student groups in order to preserve the calm of the campsite.
Arrivals and departures: Wednesday or Saturday in July / August.
Arrivals are from 3pm to 7pm for the chalets. In case of late arrival, the tenant is requested to inform the campsite reception on 04 75 31 43 33. An inventory sheet will be given to you on your arrival, please report any anomalies on the same day. No late complaint can be taken into account.
Departures from the rental accommodation are between 7.30 and 10 am by appointment.
For caravan pitches, arrivals are from 12 noon. They must be vacated and cleaned before 12 noon on the day of departure.
If there is no news after 48 hours of the initial planned arrival, the management reserves the right to freely dispose of the rental or the pitch.
We retain the costs in accordance with our cancellation policy.
In low season from April to June and in September you can benefit from an option "early arrival from 10am and late departure until 5pm at the latest". This option will be charged at 30€ per rental and 10€ per pitch.
Find out more about pitches, prices and the spa of our campsite